Exceptional quality signet & wedding rings, pendants & cufflinks at affordable prices
Handmade by me in Hertfordshire England in Sterling Silver 9ct & 18ct Gold
The Very Best 9ct 18ct gold & Sterling silver handmade signet rings , laser crest engraving
I am a semi retired signet ring and wedding ring manufacturer with over 40 years experience in jewellery design, Silver signet ring manufacturing has been a passion of mine since the last 2 years at school and although I now have osteoarthritis making nice thick substantial Gold or Silver signet rings is still well within my ability. Nice thick signet rings are easier to handle than the rasor thin rings so often found via the internet and discount stores. Tiny ladies finger sizes like A or B , I can manage a 1mm to 1.5mm thick shank and 2mm thick head as a result I do not end up with thin centres after filing out the curvature as a result of making a big thin gold signet ring to many sizes smaller, a common error caused by money saving methods due to gold price .

Extra large size signet rings also are not a challenge, my signet rings are truly bespoke I do not cut an average mans signet ring in finger size R and put a section in with two joins, nor do I over use a stretcher, instead when necessary I will produce a new signet ring master pattern any size up to Z + 6 often made without a single join.


Please note my photographs are of REAL RINGS , not computer generated.
Every Item of jewellery is bespoke made to order by me !
Why are all my products made bespoke to order ?
Signet rings pendants and cufflinks made suitable for crest and seal engraving are more substantial than mass produced similar items, Ideally made to the required finge size etc before engraving and before polishing because any adjustments and handling after engraving may damage the fine detail.
As of May 2014 I am now the proud owner of a state of the art YAG GALVO FIBER laser engraving machine providing in house Crest signet rings and Coat of Arms engraved, extra deep initials, monograms & some of the most intricate and detailed family emblems, logo's and masonic rings.
All my jewellery provided in a free quality leatherette gift box (not wood like photo)
Wax stamp gifts set available as an additional item on request £50.00 additional fee
I am reluctant to engrave products unless they were made by me
I am not willing to engrave names on ID Bracellets or initials on rings cufflinks etc which are sent to me by members of the public because they are better taken to your local jeweller , an over the counter face to face service is far better for every day engraving needs.
If your local jewellers are unable to carry out a crest or seal type engraving , or you require a full Coat Of arms seal engraved then I will
Please visit the link at the bottom center of the page and visit my dedicated website sealengraver.co.uk

No public access to
my jewellery workshop
Not an online shop selling products bought in from China or mass produced silver signet rings made by a bulk manufacturer in the UK. Every bespoke signet ring is handmade by me in person at my own bench in my own log cabin workshop in Hertfordshire England. If you phone I will answer, if you email I will reply. I do not entertain any clients at my premises as I have more than sufficient orders via internet for gold and silver jewellery EXAMPLES STAMPINGS & CASTINGS

seal Engraving Service
on your own product
The only service I will supply if you the client wishes to send in your own signet ring or cufflinks etc is laser seal / crest engraving.
Engraved by my state of the art laser engraving machine & enhanced by hand it closely resembles the work of a hand engraver
Please visit my dedicated website

Contact Viv
Phone or email no Vistors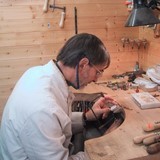 I do not keep regular hours like a high street shop, It often takes all morning before my medication kicks in after that I am glued to my bench and concentrating on manufacturing

Please phone between 8.30 am and 11 am or after 6pm in the evening if at all possible.
Emails I reply to usually same day
Customers Comments : Family Crest and Seal Engraved Signet Rings, Specialist Laser Engraving
Laser family crest and seal engraving, Hand crest and seal engraving, Masonic Square and compass , Clan Badges , Cufflinks , Pendants
Specialising in Sterling Silver signet rings and 9ct or 18ct Gold signet rings

TO SEE MY PREVIOUS CLIENTS COMMENTS AND FEEDBACK

Link above will take you to my comments and feedback pages, Please read before ordering and it is appreciated if you could add some comments after receiving your own order. This is not a forum, I will reject unrelated entries from email addresses I do not recognise

Once submitted I have the option to publish or not, I never edit clients comments, I publish every comment received regardless .