How our signet rings are made
I have over fourty years signet ring manufacturing experience, I have used possibly every technique making me an expert in the production of handmade signet rings.
Cuttlefish or Cuttlebone Casting
Cuttlefish casting was where I started my journey , I learn't this when watching my metalwork teacher at 15 or so years of age at school, in his lunch break making gifts for his family and friends. I copied the process in my fathers garage using my brothers G P O tools and my fathers glass blowing torch melting down my mothers spoons.
Lost Wax Casting
At the age of 18 in my first full time job I worked for the biggest mass production jewellery company in Hatton Garden EC1. All the workshop staff took it in turns to assist the master caster in the hot , dusty , smelly casting room where we assembled casting trees with hundreds of wax models , and cast thousands of assorted jewellery items per week. Centrifugal casting in those days.
Back then using mass production techniques I would personally finish approximately 100 signet rings per week, speed was of the essense as we were paid by the item, not a weekly wage. I rapidly became the highest paid signet ring worker on the factory floor and as a result the first to be laid off in the recession.
Lost Wax Vacuum Casting
Technology moved on mass production casting is now done using vacuum casting
Vacuum casting requires far more sophisticated machinery to get the best results , costing anywhere between £500.00 for a small machine made in China suitable for a small workshop like mine, up to £60,000 like the machines used by the full time casting company I use in Hatton Garden EC1 ( I use mainly for my silver signet rings )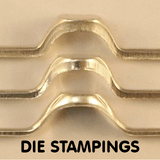 Die Stampings
1984, I rented possibly one of the smallest self contained retail shops in South Harrow
At 5ft 9 3/4 inches wide and only 30 ft depth I fitted in a window display , shop counters and a tiny workshop, there was not adequate space for heavy machinery.
As a result the best way forward was to buy in Die Stampings from a bullion company " Knight and Day " these arrived flat and required forging round by hand , hammering into shape with a hide mallett and finishing completely by hand.
For the next 4 years I supplied numerous wholesalers and high street shops including Mappin & Webb. One of the wholesalers sold my rings on to some very influential people including some in politics and at least one minor member of the royal family.
Cad Cam ( computer Aided Design )
It was always inevitable that technology would in some way replace the artisan skills required to hand make jewellery, and eventually I succumbed to the advances of 2 highly skilled technitians oferring to modernise my work.
Unfotunately the cost of having a design drawn in 3D , and then CNC machined out of wax before lost wax casting made it almost useless unless bulk manufacturing identical rings in identical finger sizes.
Delft Clay or Sand Casting
Hans Karreman invented a refined sand casting process using delft clay which revolutionised the old cuttlefish bone casting technique.
I started replacing all my rings using his teqhnique in about 2010 , a much cleaner less smelly casting process and as the rings are cast one at a time , unlike bulk casting in lost wax the results are far far better.
In 2017 I broke my right Scapular , shoulder and 3 supporting ribs as a result using a hide mallet is almost impossible , so re sizing rings from stock sizes is difficult.
3D Printing to make new master patterns
So I had a brainwave , and paid a vector graphics expert to re draw all my master casting patterns in 3D in 26 fingers sizes in every size and shape.
When you place your order , I print out a new plastic master pattern in your finger size & chosen head size and shape which is used in the delft clay to make the mould into which the hot metal is poured to produce your one ring in your exact finger size.
This not only eradicates my use of a hide mallet but also means your ring is made without a single join. Furthermore unlike a die stamping or a lost wax casting from a stock finger size wax the head has not been curved making a stock size ring bigger or smaller, which often results in a considerable amount of metal loss and thinning of the head by filing it flat.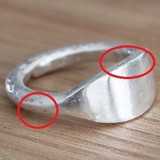 but the other websites all State castings are inferior
Cheap mass produced castings made in huge batches often cast 100 or so at a time are definitely prone to porosity , tiny air bubbles trapped in the metal as it cools down
This results in weak , brittle , often rough looking castings that are definitely not suitable for hand engraving , actually can be quite dangerous and cause injury.
Likewise Delft Clay or Sand Casting by unskilled inexperienced jewellers can often have BIGGER visible holes not only hidden inside but often on the outside of the rings
Even after 4o years of casting experience I get the odd failure , it goes in the scrap for recycling. However there are plenty of "crafters" who will sell theirs on , usually plannished to hide the faults and proudly offerred as Artisan therefore unique.
In conclusion do you get what you pay for ?
Well yes and no !
If you are in a position to pay for Rolls Royce quality then undoubtedly you are going to have the crest , coat of arms or initials hand engraved , and my advice is to buy the ring from the person engraving it. They might require a die stamping.
However as a good seal engraved crest will cost you about £300.00 and most die stampings in gold start from £600.00 its not going to be cheap
By comparison my laser engraving service on average is half the price and my cast signet rings are on average 2/3 rds of the price of die stamping.
Every solitary photograph found in my website are taken of customers rings prior to posting , with only one exception every engraving is one of my laser engravings.
I will not supply you a reject casting , and as my rings tend to be thicker and heavier than most internet offerrings, the only real differrence in my prices is a result of me being semi-retired and no longer VAT registered a saving of at least 20%